There was a buzz that social media is going to replace e-mail marketing but thank fully for lot that was just a buzz, hoopla! Here what the reality is, now the e-mail marketing not only exist but also complements social media campaigns. If you are a branded company and smart social marketer who you want your target audience to like your social media pages than all that you do is to use e-mail campaigns and drive the audience to social engagement and it works wonder.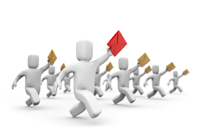 E-mail marketing is still a very robust and relevant part of internet marketing strategies. Earlier e-mails were used alone to spread some promotional information about the company's product and services and now this medium effectively combines with social media marketing. So now, it's not just e-mail marketing but it is e-mail social marketing. The best part of e-mail marketing is that it stays for a longer duration as compared to any other marketing medium. The reason for it is that people change the physical address, they switch the social accounts but their e-mail addresses remain the same.
If you want to send the seamless e-mail messages and track thee-mail clicks, than we are right here to help you.
Why Us?
Our e-mail marketing is much beyond the simple text and graphics; it is about the brand awareness. We focus on sharing ideas and information to strengthen the customer relations with companies.
We believe in the beauty of professional e-mail templates. We design the templates that match your business need. Our templates are there to make your message click with audience.
We have a team of delivery specialists. Our experts send in the mails and also do close spams check to make sure that message reaches the target audiences e-mail inbox.
We track the e-mail messages. We track the e-mail opens, e-mail clicks and unsubscribe. We make to make your e-mails popular.
From welcome messages, to webinar invitees to event reminders we have every e-mail marketing solutions for you.