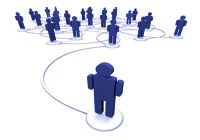 Natural and Effective Link Building Services in Singapore by SEO Company Singapore
Links are extremely imperative to ensure higher rankings in the top search engines. Diversifying links have become a significant part of making linking appear natural, effective and realistic in the eyes of the top search engines.
SEO Company Singapore
building links through a huge variety of services which boosts their clients' websites' credibility and makes the linking appear more organic, that top search engines adore.
We totally identify with the fact that link diversity is extremely important, so we deliver it all right from blog commenting, article creation and submission, press release creation and submission, forum postings, social bookmarking, social media marketing to directory submissions and much more in Singapore. We deliver the easiest approach to build a massive amount of assorted links through our effective SEO services, all through a single platform.
We have been working and have worked with some of the wackiest and unique niches you might have ever heard of and have learned and experienced the hardest lessons about which SEO service works, and which doesn't work. We totally understand how to get the link building job done perfectly for your niche. We can take complete care of our clients' Singapore SEO link building requirements and budget limits whether they require of merely few quality links to drive their rankings a few notch higher in the top search engines or if they have an all-inclusive website with lots of keywords and they require acquiring higher search engine rankings across the board.
Why Choose Our Link Building Practices in Singapore:
Employing Unique and optimized content marketing plan.
Tailoring and implementing a website-oriented link building plan.
Guest blogging
Infographics creation and promotion
Recognizing 100% natural link building opportunities.
Acquiring links from niche-oriented and high-power business directories.
Generating and marketing unique, relevant and engaging content.
Press release creation and submission.
Link-baiting
Acquiring links via viral marketing.
Making use of both our clients' brand name and key-phrases as anchor text to keep away from search engine penalties.
Online public relations management.
Diversifying our clients' websites' online outreach.
Optimized blog post creation and posting.
Optimized Article creation and submission.
Social media marketing across all the popular channels in Singapore.
How Our Link Building Practices Works Wonders In Singapore?
Our SEO link building services are tailored in a way that drives top-quality, unique and relevant links to our clients' website speedily. When our clients commence with a SEO link building campaign with us they are assigned with a dedicated and experienced team SEO experts in Singapore who manage each of our clients link building requirements and budget limits. Our SEO experts in Singapore focuses solely to make sure that our clients understand what we're up to exactly and to make them feel contented with the efforts they are making in our clients' behalf. We identify with the fact that clients require ensuring that their brand is in safe hands and never compromised online.
As the months roll by we ensure that our clients' SEO link building services deliver amplified success since we'll get extra savvy about acquiring top-quality and relevant links. Our SEO link building experts in Singapore will generate a legitimate buzz once they acquire top-quality links. Reach out to us anytime through calling us at: +65 65738429 or e-mail us at: info@seocompany.com.sg to hire our winning SEO link building services in Singapore at affordable prices.