It is most appropriate to term Press releases as a visual sales page for your business. Your share worthy releases clubbed with the elements of multimedia gives your business a sense of integrity and positive views. The overall marketing element of your press release can take your company to the next level. Press release submission creates back-links and thus gives one more way in which consumers can find you. In this technology era, the press release submission is a classic medium to spread the timely and newsworthy information about your business to its target audience.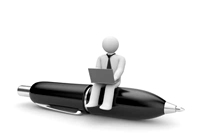 Do you know what newsworthy press releases are? These are the press releases which cover information from different angles and affect everyone outside your company. Newsworthy releases covers the, who, what, where, why and how of your product and services. No wonder that news worthy press releases are the evergreen content marketing for your business.
If want to make your business information news worthy, if you want your business information to cover wide variety of items and target all the media outlets, if you want to build exposure by using press release submission as business strategy then you are at a right place.
Why Us?
We provide you the most comprehensive press release services. We 'Seo Company' help you spread your business news, news that customer care about and wish to know more.
We spend time to plan and plant the reputation of your company and we consistently reinforce the reputation through our press release submission services.
We help you define your target audience, we provide you a well written press release and we engage your target audience to the news.
Remember, if you start press release submission on your own, it can be a bad move, as submission of news is a speciality area. Only a professional knows how to create a press release that counts. Our expert knows the formula to super charge the audience with any business news. Once they write and publish any press release, it goes viral. If you really want to stand out in a crowd then take up our professional services and benefit from it.