If you are aware about public reputation and you still think that one or two negative comments about your brand on the internet can do no harm to your business, than think again and must think hard. Now, the onset of technology has clearly diminished the difference between an online world and a real world. The search engines of Google, Yahoo and Bing and even the Social media sites work as 'reputation engines'.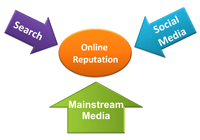 The impact on online information about the company and its brand has far reaching impact than mere words of mouth. Once a comment (positive or negative) about your company is online, it is there forever. So you cannot ignore to notice the highly dissatisfied customers especially those who make it their mission to blot the company's reputation online. Remember that once something (good or bad) is said about your brand online, you are likely to stick with it as long as you run the business. If you do not know what to do in situation when you get bad comments on your brand, then do not worry as we are here to help you. Our online reputation management will make sure that customers who have an excellent experience with your services share their experience online and customers who have a bad experience modify their views.
Why Us?
Our reputation management services are aimed at reducing the damage which is caused by negative comments about the company that rank high on searches.
With the help of search engine marketing and social media marketing, we help to bury any information which damages the business.
We provide a complete package which includes the services of reputation management as well as reputation monitoring. Our customers get daily alerts on all the online activities which happen under their brand name.
Our reputation monitoring system surfs the blogs, articles, social media pages, forums or we can say, it surfs the entire internet to find all the content which relates to your brand.
Our reputation management services aim to watch after your brand, handle the public reviews, to make sure that your customers are happy. Our reputation management cares for your online business.