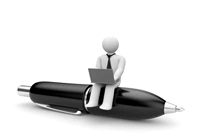 Search Engine Optimization Writing is not a big term to be afraid of, but involves providing realistic content that drives traffic to anyone's website and promotes higher ranking in the search engine priorities. SEO writing helps climbing up the ladder of rankings but also brings about user interaction and sharing. Our company has skilled professionals and writers who work strenuously on strategies on how to increase the surfing population on client's websites and make Google and other search engines look for them.
Modern SEO writing not only concentrate on content writing that creates web traffic, but also inducing the common people to interact with those websites and share about them in the social media sites and blogs. Our well trained staff performs SEO writing that focuses on such groups who would like to comment, interact and share and blog about the websites that in turn attracts the major search engine groups.
Traditional SEO writing aims on providing specific search engine targeted words commonly referred as keyword phrases, but the search engines not only look up for content on page but the tasks performed off page. SEO write-up must be eye-compelling to the users, promoting them to link and share to others off page, indirectly driving traffic to those linked websites. SEO writing can be made simple and productive by fixing certain do's and don'ts in order to point people to one's website.
Firstly, our company researches on phrases and words that are highly surfed by users for information. Also using keyword research tools, our team scrutinizes on picture perfect keywords that will hypnotize search engines and users. These keywords are used in the content at regular intervals in the titles and headlines, subtitles and Meta descriptions and title tags. Also big, fat keywords and long phrases are of less search volume. Attractive and catchy headlines are provided. Content should be relevant, natural, focused on topic, with grammatical variations and synonyms of keywords thus making it more human and search engine oriented. Ideal keyword length, density and frequency are noted and stuffing up of words is omitted rendering quality content. SEO writing can be more feasible when questions of users are answered in the content to get noticed and shared.
Our company develops quality and productive SEO content that helps in optimization of your website. Our SEO writing professionals integrate the necessary and significant elements into the website content, making the search engines find for essentials, thus improving and increasing the ranking and market growth.